HOME | Daniel | Yang | Jingwen
Welcome to Guoxue's Kirarin Cafe!
On this page, I will show the food inside the animation
These images are from Kirarin Revolution anime.
Here's is what Tsukishima Kirari eating: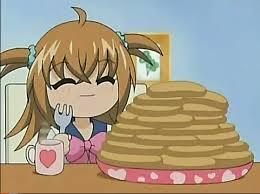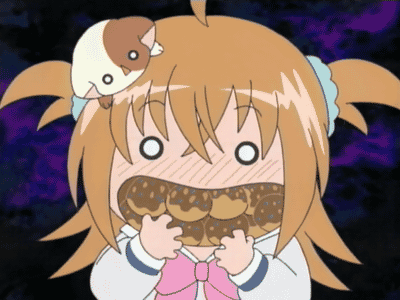 Here's what happened:
Kirari's father like to cook. One day, he cooks fish pie and potato mush with savory sauce for the family. Kirari, Kirari's pet Naa and her grandmother says it tastes delcious. But, father says he quit his job.He wants to open a cafe because it is his dream to make people happy. He named his cafe after Kirari.

On the day the Kirari cafe opened, Kirari inspect the cafe. She thinks it is amazing. Kirari grandmother buys teapot and tea cups for the cafe. They agree the the cafe's motto should be "you must use your heart to simile". In preparation, Kirari was the first to serve the first cherry ice cream crepe, sweet butter pancakes with syrup, waffles with whipped cream, and Kirari Cream puffs to the customers.

Kirari is a singer but also loves to eat. She has to deal with this conflict everyday. She reschedules her singing session so she can serve as a maid in the cafe. Kirari's brothers were invited but Kiriari's grandmother did not know. Kiriari was about to wash the dishes when her grandmother injured her back getting while excited with Kiriari's brothers coming. This day the whole family is serving at the Kirarin Cafe. It is so popular, that the famous food critic Rokoko comes and tries out the food at the cafe. source link
This is the first image source link: http://images6.fanpop.com/…5.4res_260_194.jpg.
This is the second image source link: http://images4.fanpop.com/…9.96res_400_300.jpg.